Kristin has over 20 years of experience in assessing, coaching, developing, and advising people spanning a wide range of backgrounds and beliefs, industries, and professions. She is known for her openness, acceptance, understanding, and ability to put people at ease, as she skillfully guides them through whatever they are facing.
Kristin is a certified Axiogenics Partner, specializing in Cognitive Self-Leadership and the VQ Profile Assessment.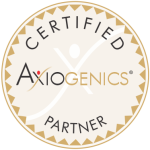 She's a graduate of Michigan State University, with a B.A. in Interpersonal Communications. Kristin and her father Harvey Schoof co-authored the book Living a Richer Life; It's All In Your Head in 2018.
Kristin lives in Grand Rapids, MI with her husband, two grown sons, and beloved cat Lucy. She's a recovering perfectionist, who needs to be reminded on occasion that sometimes "B's" really are good enough.